The way customers buy is constantly changing and companies must be up to the changes, a factor that will help them stay competitive. The inbound sales process, which derives from this type of methodology, proposes approaching customers by showing the evolution of their way of buying and trying to offer them a better, less invasive experience at the moment of offering a product.
Below, we will tell you everything you need to know about the inbound sales methodology so that you can identify how the sales process is being carried out in your organization and if you need to make changes.
Index
What are inbound sales?
The way of selling has evolved over the years. Currently, consumers are the ones who are going to look for what they need so the invasive sale that is generated from imposing services or products on customers is no longer well seen. Inbound sales is a new way of selling that is implemented in the business world based on these trends that are emerging in the market, where customers are now the ones who have the power, the information, and the last word when choosing.
Inbound sales, like all tasks carried out in an organization, is a process. In this case, carried out by the sales team, whose goal is to manage the business possibilities from the beginning until they become effective sales.
This sales strategy which is part of the inbound methodology, where the customer is prioritized as the center of business, seeks to offer what they need and, after providing them all the necessary information, they are the ones who make the purchase decision. The inbound methodology focuses on the stages that the cust0mer goes through since they start caring about learning what their real problems are to hire someone to help them solve these problems. The sales team applies its strategies while the prospect is in one of the stages of the journey, accompanies and advises them to provide personalized attention.
Stages of inbound sales methodology
In the inbound methodology, and inbound sales as well, we have stages that buyers go through before reaching the end of the process. Those of the inbound methodology, where buyers have their process, are: discovery (when customers realize that they have a problem), consideration (when they are interested in knowing how they can solve it), and decision (when they decide to solve it ).
In the inbound sales process, encompassed within the entire inbound methodology, directly related to the stages of the buyer and where the sales team acts directly, the stages of the journey are:

Identification
At this stage, the important thing is to focus on those who are already interested in our product. Active buyers are prioritized after you have prospected them and there is no attempt to sell or convince them, but interaction with them is sought through their interest, which appears due to the quality content that we have offered.
Connection
Once we have the active buyers identified, we must move on to the connection stage. At this stage we must confirm that prospects have a problem that we can help them with and it is of the utmost importance to contact them quickly, this will ensure better results. The contact can be made by calling, by email, or by the same blog that prospects already know.
The important thing in this step is to provide prospects with quality answers to solve their problem. We must not bother them or try to offer answers just to sell them a product, but do it for their real needs.
Exploration
Now that we know the prospect and their real needs, it is time to listen to our customers, show empathy, and offer them the best possible solution.
When communicating with our customers, we have questions we can use to help our prospects and get the information we need; at first, we should ask them about:
Challenges they facing
Goals they want to achieve
Plans they have to overcome the challenges.
In the second stage of contact, we must ask them about:
Timeline: the time they have to achieve their goals
Consequences: evaluate the negative consequences that this implementation can have
Implications: evaluate positive results
Later, we have to conclude by asking them about:
Budget: the money they are willing to invest
Authority: knowing who is in charge of making decisions
Advice
Once we have all the information gathered, we can move on to the advice stage. Here, we must confirm with our customers the options that they previously told us about budget and time, in addition to their goals.
Once we've done that, we need to make a presentation about how we can help, which should be focused on nothing more than how our product or service will benefit the prospect. It is important to build trust with our customers so that they feel they can work with us with transparency.
Advantages of inbound sales
Selling using inbound methodology allows us to get customers who are really interested in our product or service. In this type of selling, we should not focus on our product but on the customers' needs; this is beneficial since our product reaches people who really need it, avoiding a large percentage of dissatisfaction once the customer has obtained it.
Inbound sales present a new way of approaching customers, leaving aside the invasive and persuasive sales mode that is often very annoying for consumers. By dedicating ourselves to offering useful and necessary solutions to problems, the image of the company for our customers is different from that of a company that invades their way of purchasing.
Customer loyalty with our company is another of the advantages that we will indirectly achieve with this methodology. This is very important since it is always more profitable to have loyal customers than to go out to the market to look for new customers, beyond the fact that this is one of the tasks that must be carried out.
Reasons to apply inbound sales
The advantages of inbound sales over traditional sales are:
1. Personalized treatment with clients
When you know your leads, it is much easier to approach them organically, personalized, and without sounding like a generalized discourse; this way, we build trust with customers. There are studies that show that 44% of customers return to companies with personalized treatment.
2. We know our qualified leads better
This is an important point that saves us time and resources. By dealing with clients whose needs we already know and having all the necessary information to offer them a better service, we save time and resources since we don't try to contact leads that will not represent any benefit for our business. We direct our efforts where they really need to be directed.
<<< Key elements to improve sales strategies >>>
3. We develop more empathy and, with it, more sales
Companies are more than a logo or a brand, customers are attracted to businesses where they find recognition and personalized treatment. Developing empathy with our customers allows us to put ourselves in their place and understand their needs and tastes; this will help us later to make more sales.
<<< 3 efficient strategies to attract more customers >>>
How to implement Inbound sales
To implement inbound sales there are a series of steps explained below that you can use.
Define the buyer's journey
It is important that you remember that your entire process must be developed based on the stages of the buyer, so you must always focus on the customer and the inbound stage in which they are.
Develop a sales process to support buyers' journeys
At this time, the sales team develops strategies based on the buyer's journey so that they are coordinated with the customer. We must take into account the steps of inbound sales that we have mentioned above (Identify, Connect, Explore y Advise).
Identify your ideal buyer
You must prioritize the prospects that are active in the buying process to create a well-functioning sales funnel that is predictable and scalable. You can take into account the client portfolio that you already have since from there you can get a lot of relevant information that will help you.
Connect
This is a difference from the traditional sales process. At this point, the seller must connect with the client to build a relationship of trust with him. It is important to address customers in a personalized way so that they can see the genuine interest we have in helping to solve their problems. To connect with customers, we can use traditional means of communication as well as virtual methods. Social networks are a useful tool that we can take advantage of.
Prepare personalized questions according to your customer
It goes hand in hand with connecting with the customer and personalizing. To reach the customer we must personalize our contact and exchange process. Traditional sales seek to sell the product while inbound sales seek to connect with the customer to establish a relationship and from there, offer help. It is important to explore the customers' problems and also research their problems and impact to empathize with customers.
Advise your customers
Following the inbound methodology, the sellers' goal is to help the customer with their needs, offer them the best information they need to make a decision, and once they have made it, provide them with the best solution. For this reason, the seller must advise customers.
Differences between inbound and outbound sales
The main difference between inbound sales and outbound sales is the way in which we approach customers, with inbound being the least invasive way of letting them know about our work.
In the following table we will show the main differences between these two types of sales: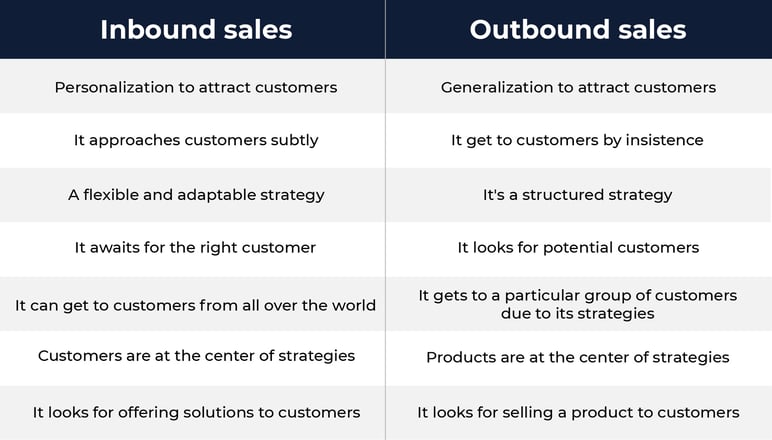 Taking these differences into account, we may be able to understand why it is often difficult for us to attract new customers to our company. Perhaps we are applying the wrong sales strategy and we must change our way of connecting with our customers.
Conclusion
The inbound methodology breaks into the business world as a new, more humane way of doing business. It places customers at the center of all processes and positions them as being able to discern the best way to solve their problems.
The inbound methodology applied to sales is the way to complete the process following the organic guidelines proposed in said philosophy. Being competitive within the context in which our company develops is an imminent need that sooner or later we must pay attention to. To achieve this adaptability, it is necessary to use flexible processes that allow us to make changes.
Making inbound sales is one of the paths we can take to connect with our customers from a more personalized point of view while offering real solutions to their needs and also making our business grow.